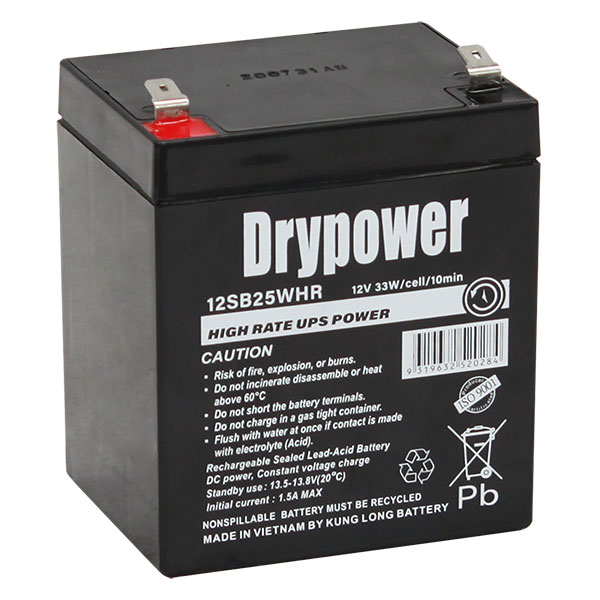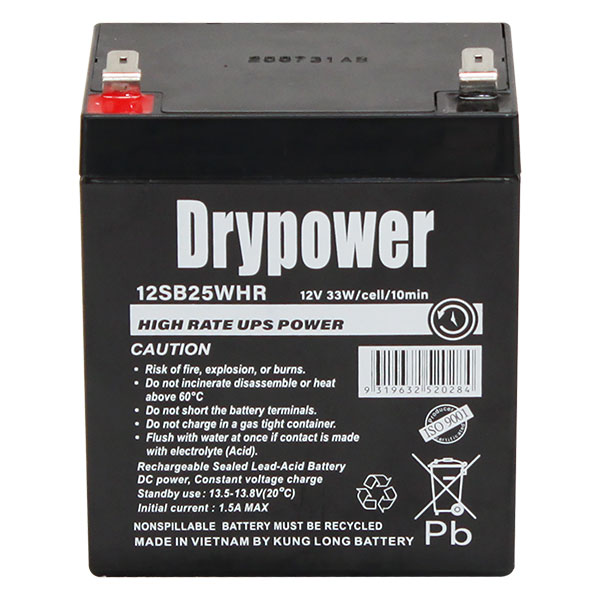 12SB25WHR
12V High Rate UPS Power Battery
Drypower 12V 5Ah 33W/Cell (10Min) sealed lead acid battery for standby-UPS. Replaces 12FGH23, 12FGHL22, 12HX25, CBX12V5.4AH, DMU12-5, FP1250, HGL5-12, HR12-16W, HR12-18W, HR12-20W, HR12-22W, HR1221W, HR1221WF2, HRL1223W, HR1227W, NP5-12, NPH5-12, LPX12-5.4, NPX25-12, NPX-25T, LC-R125P1, PSH-1255FR, PSH1255F2-FR, PX12050, RBC29, RBC30, RBC39, RBC43, RBC45, RBC46, WP5-12SHR
High Rate UPS batteries designed specifically to deliver constant reliable power in UPS or high rate discharge applications.
With data protection being of paramount importance to any business, Drypower batteries' specially formulated solder paste and advanced grid alloy plate design, combine to ensure optimum performance when you need it most.


Industry leading 99.99% pure lead content for superior service life and dependable performance.
Specially formulated solder paste to ensure reliable power delivery.
Special grid frame alloy design with outstanding anti-corrosion performance.
Thicker plate design & higher percentage of tin content compared with the industry standard to maximise battery standby life by minimising sulphation.
Maintenance free and non-spillable design for long service life.
| | |
| --- | --- |
| Chemistry | Sealed Lead Acid (SLA) |
| Voltage | 12V |
| Watt Hour | Wh |
| Nominal Capacity | 5Ah |
| Termination | F2 (6.35mm Spade) |
| Width | 70mm |
| Height | 101mm |
| Length / Breadth / Depth | 90mm |
| Weight | 1.96kg |