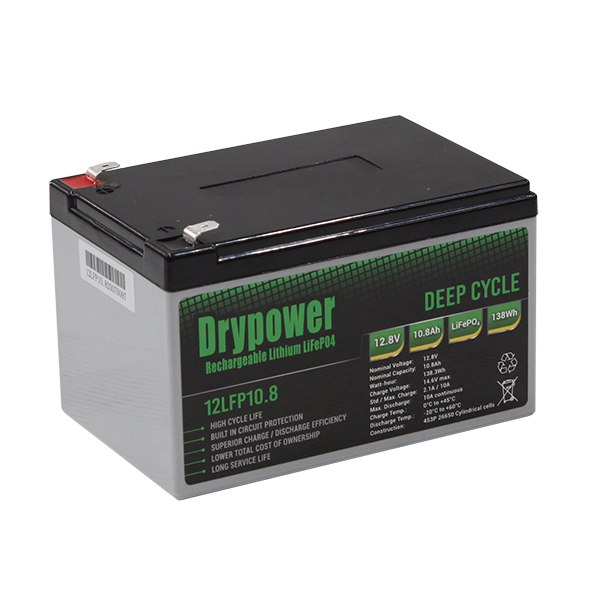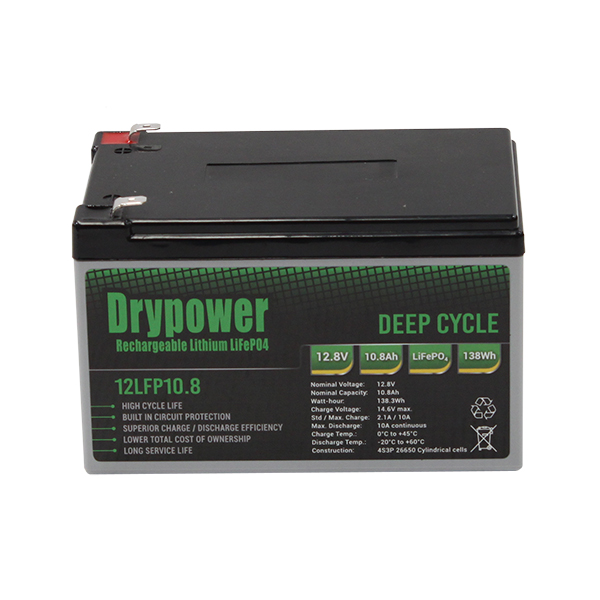 12LFP10.8
12V Rechargeable Lithium Deep Cycle Battery
High power 12.8V 10.8Ah lithium iron phosphate (LiFePO4) rechargeable battery

Drypower Lithium have been tested & comply with the UN Model Regulation, Manual of Test & Criteria, Part III, Subsection 38.3
Rechargeable Lithium LiFePO4 high power modules to handle anything SLA can. Get 100% capacity utilisation at less than half the weight.
Advanced battery technology for cyclic and motive power applications such as mobility, recreational caravan & RV, marine, medical equipment, solar applications and more.

--- High cycle life
--- Built in circuit protection
--- Superior charge / discharge efficiency
--- Lower total cost of ownership
--- Long service life


Deep cycle power rechargeable lithium batteries with over 2000 cycles to 100% DoD in industrial or high drain applications.
All the power without the bulky weight of Lead Acid battery equivalents.
High rate discharge capable and superior total capacity utilisation (up to 100% DoD) with a flat discharge curve for strong, consistent power delivery.
Low self discharge and long storage life with no risk of sulphation.
Integrated layers of safety to IEC62133-2:2017 and UN38.3 standards at the cell level as well as BMS level protection against over charge, over voltage, under voltage and over temperature. Enclosed in IP5x/IP6x rated protective case for better durability in harsh environments.


What is Total Cost of Ownership?
Total Cost of Ownership (TCO) refers to the cost of owning and running an asset. It is a useful way of assessing the value of a product over its service life, as opposed to simply looking at its upfront pricing.
In a typical TCO scenario, the cost of running a Drypower Rechargeable Lithium battery can be as low as 1/3* the cost of an AGM lead acid battery.
*This is an approximate figure and provided as a guide only. This figure may vary by region, provider/s, battery brand/models, device and/or application, and user's individual usage pattern.
| | |
| --- | --- |
| Chemistry | Lithium Iron Phosphate (LiFePO4) |
| Voltage | 12.8V |
| Watt Hour | 138.24Wh |
| Nominal Capacity | 10.8Ah |
| Termination | F2 (6.35mm Spade) |
| Width | 99mm |
| Height | 94mm |
| Length / Breadth / Depth | 151mm |
| Weight | 1.5kg |