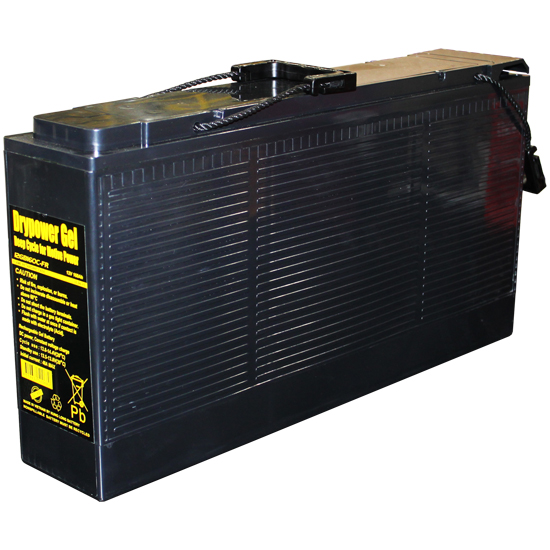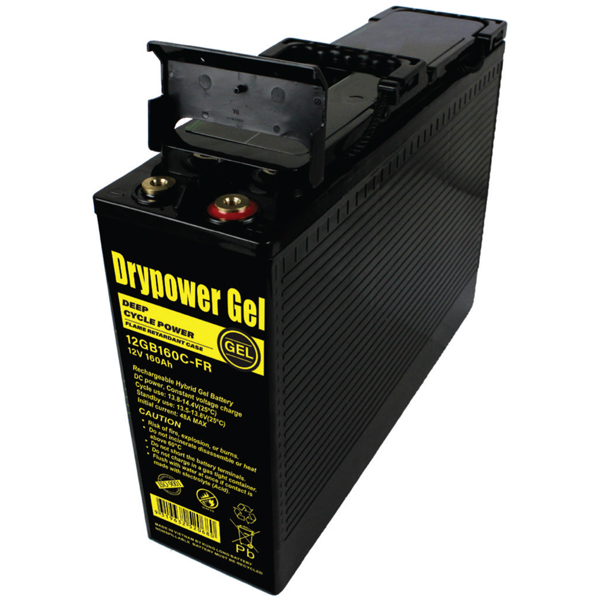 12GB160C-FR
12V Hybrid Gel Deep Cycle Power Battery - UL94 V-0 Flame Retardant Case
Drypower 12V 160Ah Sealed Lead Acid Deep Cycle Hybrid Gel Battery replaces CBF12V150A, HZB12/150FA, LPF12-125, LPF12-150A, LPGF12-150, LGK12150, PWTC12F150FR, RM12-150FT, FT12-150, CT12-140X
Drypower Gel Deep Cycle Power batteries are a proven performer when regular and consistent deep cycling is required.
Featuring both Pure Gel and Hybrid Gel versions, this range offers greater depth of discharge with exceptional deep discharge recovery. Ideal for consistent power delivery in motive power applications compared with AGM batteries.
Industry leading 99.99% pure lead content for superior service life and dependable performance.
Low internal resistance for optimum charge and discharge efficiency provides high rate performance compared to AGM batteries in deep discharge applications.
Gel compound contains more electrolyte that is more evenly distributed across the battery for better contact between active materials, producing stable output throughout its service life, minimising sulphation and significantly improving standby life.
Better suited for more extreme operating conditions:- gel composition prevents electrolyte evaporating in higher ambient operating temperatures and the electrolyte won't freeze in colder climates.
Maintenance free and non-spillable design for long service life.


Hybrid Gel Type Series
DEEP CYCLE PERFORMANCE: Featuring a unique colloidal silica gel paste, with the specially designed grid alloy plate design, the Drypower Hybrid Gel battery range offers exceptional performance in deep cycle and motive power applications such as mobility scooters, golf carts, RV & camping power set-ups and off-grid solar systems.
With a variety of 12 Volt models from 7Ah to 160Ah and featuring a slim-line front terminal model for easy installation, the Hybrid Gel Deep Cycle range will have the right solution suitable for you.
| | |
| --- | --- |
| Chemistry | GEL Sealed Lead Acid (SLA) |
| Voltage | 12V |
| Watt Hour | 1920Wh |
| Nominal Capacity | 160Ah |
| Termination | F18 (M8 Bolt) |
| Width | 110mm |
| Height | 288mm |
| Length / Breadth / Depth | 550mm |
| Weight | 50kg |